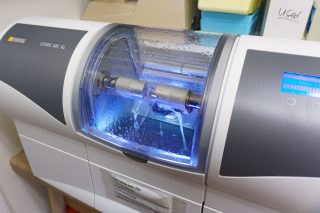 CEREC® Single Visit Crowns
No conventional impressions; The CEREC 3D measuring camera scans the prepared tooth in just a few seconds. This eliminates the need for unpleasant silicone impressions.
No temporaries:  CEREC restorations are milled out of a solid ceramic block in just a few minutes. They are then ready to be placed immediately. This eliminates the need for temporary crowns. It also means that you need only one appointment. And you don't have to wait for days.
Same day restoration, No long waiting periods: Because CEREC restorations can be placed immediately, you need only one appointment.
More Conservative restorations: Less of the tooth needs to be drilled and removed ,more of the original tooth is saved which helps better ensure a successful restoration.
We understand your time is valuable. That's why we've invested in CEREC digital technology that allows us to create porcelain crown (cap) or large replacement fillings in one visit. During one visit, we can prepare your decayed  or defective tooth, create 3D image of the tooth with  CEREC camera. And  virtually design and mill a precision restoration, which is then permanently bonded to your tooth, fully restoring its function and stability.  Learn more about Cerec
---
Laser Dentistry
Recently laser dentistry has emerged and replaced many traditional dental practices because it makes treatments more precise and less painful. This modern style of dentistry utilizes intense beams of light projected by a dental laser.  New Haven county laser dentist, Dr. Moon S. Lee uses dental lasers to perform a wide variety of treatments, including soft tissue shaping and removal.
Laser treatment of tissues allows for quick bloodless treatment that allows for faster healing and increased comfort over traditional methods. It increases the effectiveness of periodontal treatment. . Learn more about Laser Dentistry
---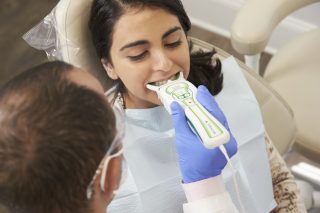 Tek Scan
The stability of your bite is very important. At Moon S. Lee D.D.S. we have invested in Tekscan® technology. Tekscan allows us to more accurately examine the inter-relationship of your upper and lower teeth when they come into contact. This device can help us identify interference areas in your bite that are too small to be detected visually with marking paper. Learn more about Tekscan
---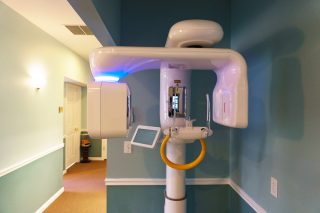 Digital X-Rays
Aside from significantly lower radiation dosage digital technology allows for image enhancements. This aids the trained eye in detecting decay while it is still small. The result is a longer lasting restoration. It also results in greater patient comfort and shorter treatment times.
A complete evaluation of the oral cavity and associated sinuses is possible with a panoramic image. It is the standard of care and a valuable diagnostic tool that images the entire jaw and joints at once. The radiographs produced are also used to study orthodontic and periodontal conditions. They will disclose areas of disease concern and allow measurements for implant placement.